Living Here
At Villaggio, our focus is on maintaining your independence. But if you need help in the future, we have it.
Living Options
Tucked against the base of San Luis Obispo's famed Irish Hills, Villaggio offers a range of home choices to meet every taste and need. Choose from attractive villas, garden terraces and apartment homes offering one and two‐bedroom options inspired by the hilltop towns of the Mediterranean. Villaggio homes are situated around a central plaza, creating a community surrounded by nature and designed with elegance at its core.
In addition to 366 Independent Residential Living units, Villaggio will offer Assisted Living, Memory Care, and state‐of‐the‐art Skilled Nursing accommodations, all on site with services included in monthly fees. Our residents have the peace of mind that comes with living in a lovely home in beautiful San Luis Obispo, with a plan for care that covers the rest of their lives. Our goal is to create worry‐free senior years.
All residents will enjoy amenities including flexible dining dollars to be used at our multiple dining venues, a fitness center, swimming pool and other physical activities, as well as life‐enriching, cultural and social events, education and lecture series and movies – all on site. Shuttle service will be available to residents who want to enjoy all the dining, shopping and cultural offerings of San Luis Obispo.
Amenities
Villaggio is designed to foster carefree living for our residents. We have designed a full slate of services, resources and activities to meet every need.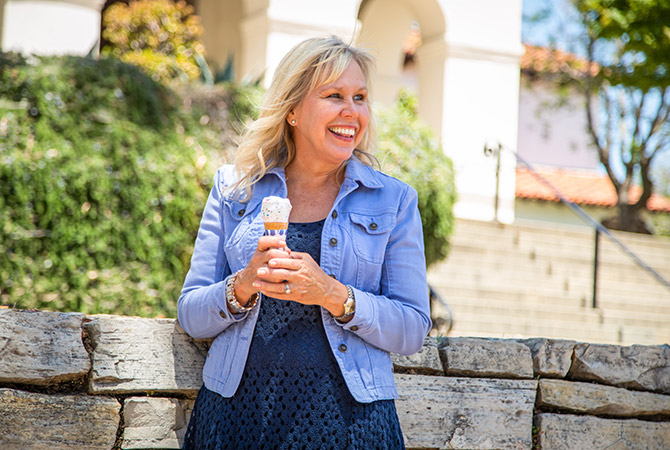 Lifestyle
How do we describe the Villaggio SLO Lifestyle? It's one that celebrates the freedom of senior years while respecting individual preferences and needs. Villaggio is a welcoming neighborhood of people with different tastes and preferences and a shared belief that seniors can step back from the rigors of middle age – careers, families, homes to maintain – and find more time to just enjoy life.
Residents can choose to participate in dozens of activities – or none at all. The true beauty of Villaggio is in the choices it offers. Villaggio is not a pep rally of endless activity, but a tasteful, respectful community that offers the best in senior living and the assurance that changing health needs are easily addressed as part of the plan.
New to San Luis Obispo? Welcome to our vibrant, caring community whose small‐town charm melds with sophistication, thanks in part to the presence of renowned Cal Poly State University in our backyard. San Luis Obispo is a wonderful place located halfway between Los Angeles and San Francisco. And when you hear reference to the "SLO Life" – that means just what you might guess: a relaxed, friendly, safe and welcoming community. Find out more here.
Dining
Villaggio is developing dining options to meet every taste and style. Whether it's casual grab‐and‐go food, a sit‐down breakfast, lunch or dinner at our fine dining restaurant, or evening cocktail at our tapas bar, we have it all.
Our dining plans are in development. We are focusing on healthy, fresh foods and local produce prepared with skill and artistry. And of course, all Villaggio dining will address special dietary needs. Check our site from time to time to watch our progress. We'll share menus and other information.
Services
Our list of available services is a long one, so in the interest of space, we'll offer a sampling of some of the amenities that residents tell us mean the most to them (note: we'd love to tell you more.)
Housekeeping, linen service
Yard maintenance
High‐Speed Internet/Wifi
Cable TV
Emergency medical help
Shuttle transportation
Meal Service, restaurants
Onsite fitness center
Onsite movie theater
Salon & spa services
Crafts room
Fully equipped woodworking workshop
Activities & events: Book club, lectures, cultural arts trips, wine tastings, cooking demonstrations
Storage space / 1 and 2‐car garages
24/7 security and emergency call service